When we think about the best sport fishing in Costa Rica,three areas of the northern part of the province of Limón come to our mind: Tortuguero, Barra del Colorado and Parismina.

The Caribbean of Costa Rica, with its beautiful beaches, cuisine worthy of awards, vegetation and animals you have probably never seen, and human warmth difficult to match, is a perfect destination for your sport fishing vacation.
The fish you will find when doing sport fishing at the Costarican Caribbean
At Limón, the province of the Caribbean of Costa Rica, tourist can make several sport fishing tours in spacious and safe boats.
Whether on the coast, canals, rivers or sea, the most adventurous fishers will make their adrenaline flow by catching fish of all kinds, including the most wanted: Sábalo and Róbalo. But each area has its magic, so we invite you to explore them all!:
– 'Mojarras'
– 'Róbalos'
– 'Machacas'
Barra del Colorado: located 35 kilometers north of Tortuguero, it's the largest wildlife refuge of Costa Rica thanks to its more than 31 kilometers of water canals, rivers, lagoons and swamps. This area is great for fishing, and then release:
– 'Róbalo Gordo' (Fat Snook)
– 'Sábalo' (specimens up to 100 pounds can be caught)
– 'Machacas'
– 'Lobina Arco Iris'
Parismina: it is located south of the Tortuguero National Park and is a perfect area for fishing:
– 'Róbalo del Atlántico'
– 'Tarpon'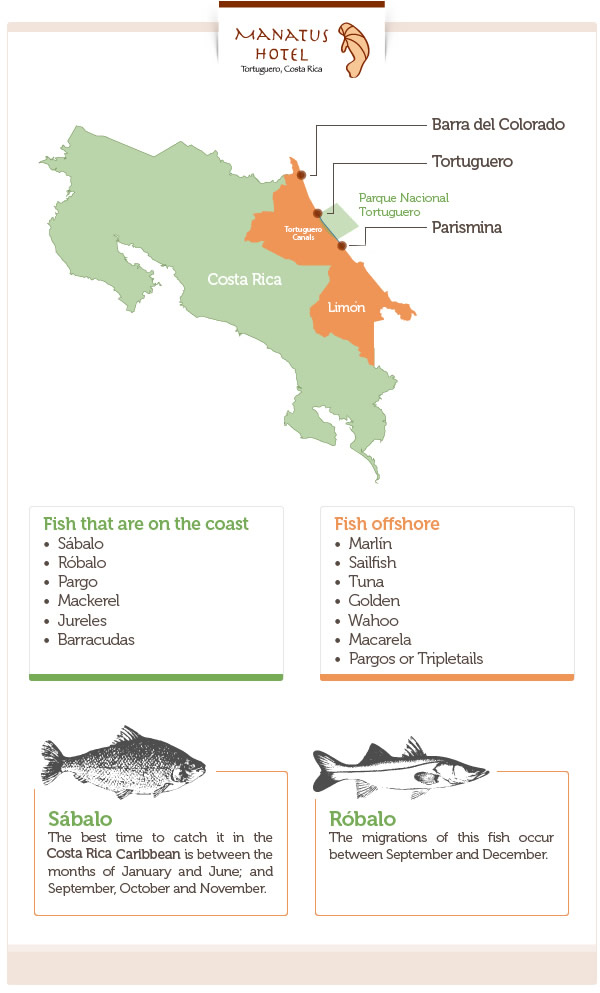 What are you waiting for? At Manatus Hotel, recognized by Rainforest Alliance for its sustainable tourism policies, we will be happy to arrange you a high quality sport fishing tour, with the company of the captain Eddie Brown, so you can have the adventure of your life!
Book your space in advance: (506) 2239-4854, info@manatuscostarica.com or using our system for online reservations.