When deciding on celebrating a couple milestone, a romantic getaway, or even your honeymoon, travel to an exotic destination is always high up on the list.  The destination should fit some special criteria to include that element of surprise, of a once-in-a-lifetime experience, and a place that is unique.  The question is: Tortuguero Costa Rica for a romantic destination? Definitely!
Let´s put some perspective into this affirmation.  Firstly, Costa Rica is Costa Rica. That in itself is a guarantee that your romantic vacation is going to be a hit.  Costa Rica is famous for its close-to-nature adventures, biodiversity galore, friendly welcoming locals, amazing beauty, and boutique eco-friendly luxury hotels nestled into the rainforest.  While small in size, Costa Rica certainly is big on nature, adventure, and fantastic places to visit.
If there is one place in Costa Rica that truly sums it up, it is Tortuguero.  Nowhere in Costa Rica will you find a place like Tortuguero. It is no surprise that it consistently stands out as the best destination to visit.  It is full of nature, wildlife, beautiful hotels like Manatus Costa Rica, fantastic food, rich in culture and history and it also receives up to 4 types of sea turtles that spawn here every year.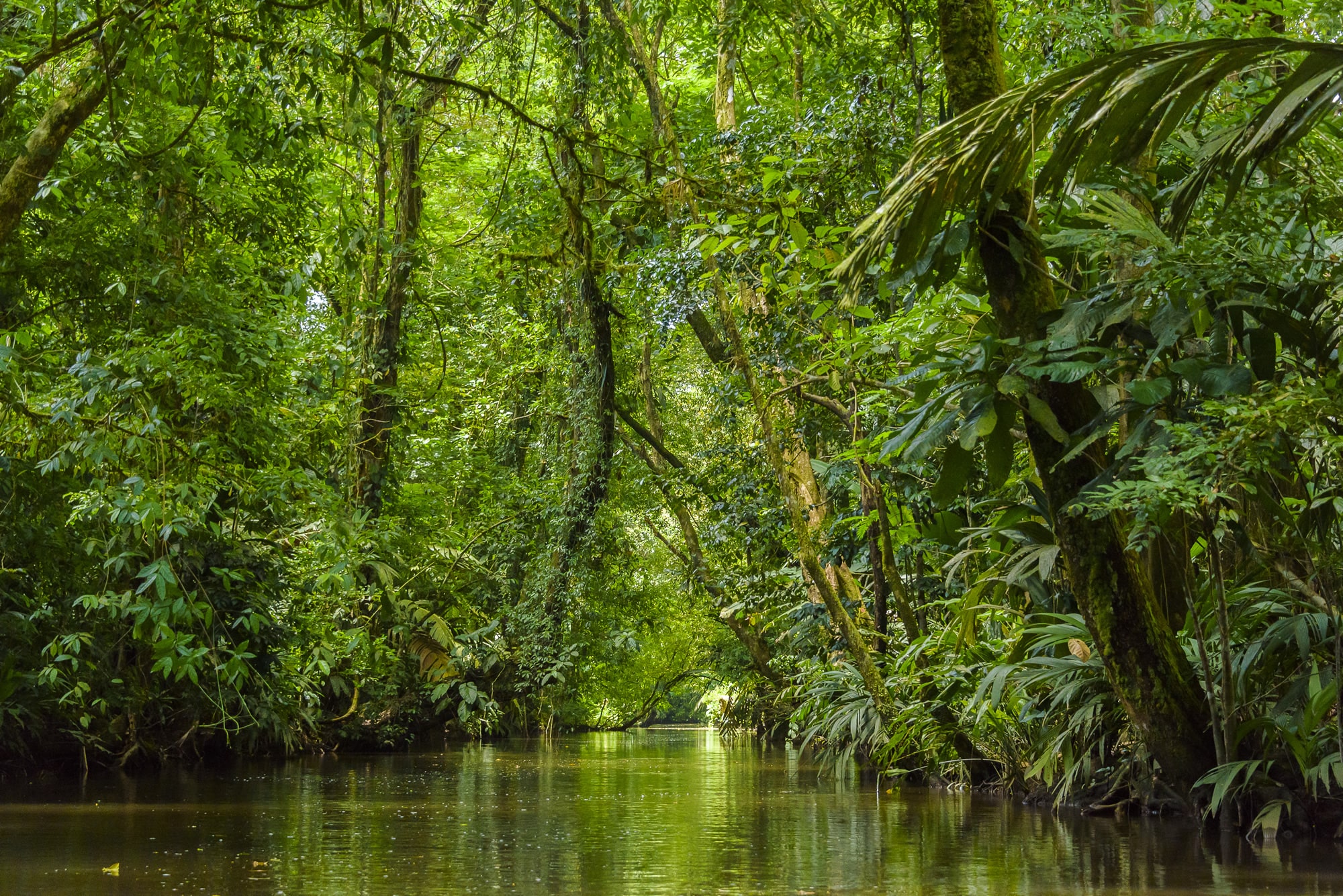 Romantic Route to Tortuguero
Maybe the most distinctive characteristic of Tortuguero is what you have to do to get there!  Your journey to this northern Caribbean coast outpost will be in a boat as there are no roads to Tortuguero.  A boat trip through serpentine water canals bordered with lush rainforest and home to much wildlife. This means just to get to Manatus Costa Rica in Tortuguero, you will be immersed in the intense beauty of the boat ways that will get you there.
No other place in Costa Rica, and well, most of the world, has boats as the main form of transport as in Tortuguero.  What an incredible way to start your romantic vacation, right? After winding through the canals, you will eventually reach the small town of Tortuguero and just beyond that your VIP hotel in Tortuguero, Manatus Costa Rica.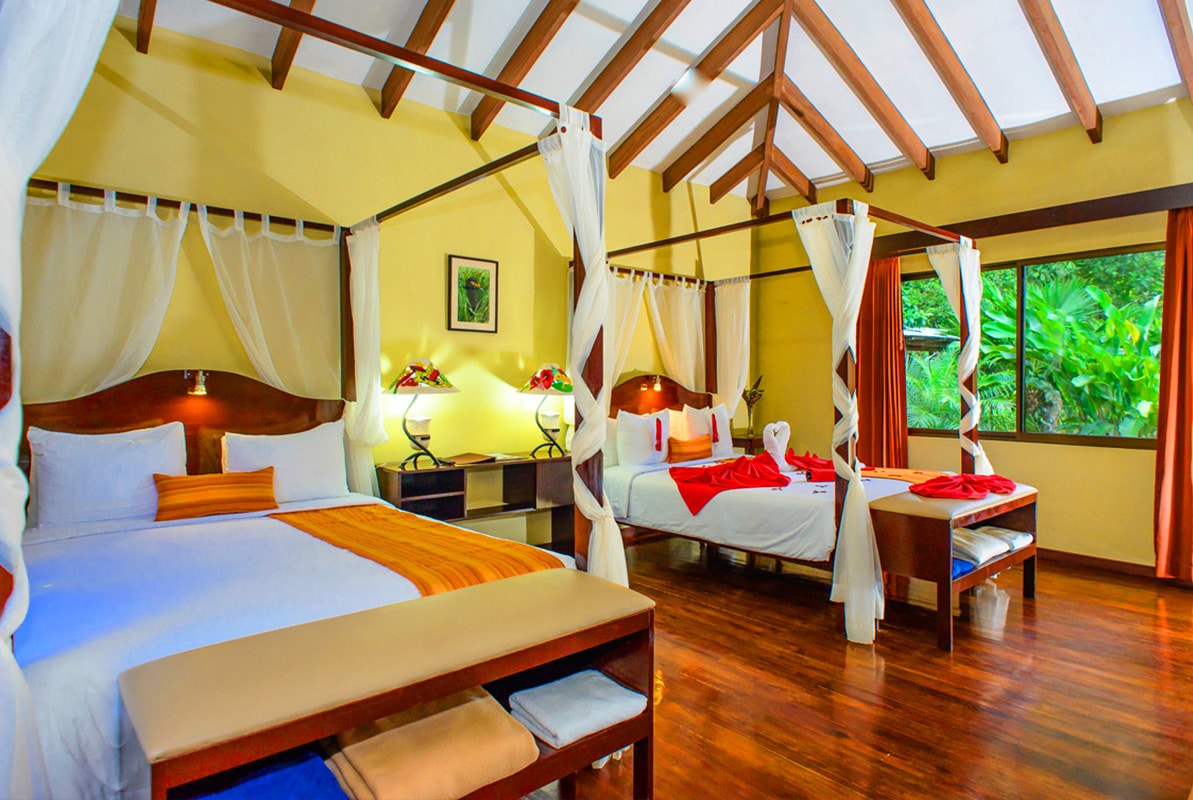 Your hotel hideaway
Manatus Costa Rica is a VIP hotel and is considered the best full-board hotel in Tortuguero, Costa Rica.  It offers its guests amenities and facilities that most other hotels in the canals don´t. This guarantees a romantic vacation in Tortuguero with all the perks and comforts needed for a truly unforgettable vacation.
Not only is the hotel beautiful, but it is also very intimate with just 12 fully equipped luxury rooms dotted around the property and sitting within incredible tropical gardens.  Beautifully decorated on the inside, your spacious bungalow feels secluded and is a private retreat after a day of adventure.
Your room not only has wood-accented décor, but it also has air conditioning, free Wi-Fi, and satellite TV.  Make yourself a drink from the mini-bar and sit on your outdoor private terrace to enjoy the sights and sounds of the tropical sunset.  And don´t forget to try the outdoor shower enclosed in the private patio after a swim in the pool.   Spaces that make that romantic vacation in Tortuguero that much more special and unique.

Caribbean Inspired Candlelight Dinners
Your daily room rate includes meals in the Ara Macaw Restaurant just steps from your luxurious bungalow and the hotel pool and it is the best restaurant in Tortuguero!  Inspired by Afro-Caribbean cuisine, each dish will be representative of the flavors, aromas, and ingredients that make it so special.
From your hearty breakfast before heading off to the Tortuguero National Park for some serious wildlife watching or into the town of Tortuguero for some souvenir shopping or just to get to know the locals, the world-renowned chef and crew will make your stay memorable through food!  Lunch is just as spectacular and a candlelight dinner overlooking the Tortuguero canals is the perfect end to a day of romantic adventure in Tortuguero.
So, for that special occasion or a romantic vacation, Tortuguero ticks the love boxes in so many ways. Manatus Costa Rica, the best hotel in Tortuguero will make sure your stay is unforgettable.  Book online and stay at this Enchanting Hotels collection