Tortuguero is a nature lovers paradise without a doubt! Only accessible by water or by air and much of the area protected with the national park system of Costa Rica that covers 25% of the country, this water-rich region is a sanctuary for land, sea, air, and water wildlife.  A small community has developed over the years and true to the Caribbean Coastal flair, it is full of colors, flavors, and textures.  Let´s discover 5 photo opportunities when visiting Tortuguero!
When you are deciding on where to go in Costa Rica as you plan your trip of a lifetime, specially after a period of isolation thanks to COVID-19, you need to put Tortuguero on the top of your "must-go-to" list.  No doubt, you will be wanting to premiere your new camera o phone that you bought during a moment of retail therapy. This is where photo opportunities are everywhere you go so keep focused and the lens ready!
This is the photo opportunity destination by excellence!

1. Sleepy Sloths
I believe that sloths could well be one animal that is on the list of favorite animals for most people all over the world!  They are definitely perfect photo subjects too as they don´t move much and when they do, it is very done very slowly.
In other words, they know how to strike and hold a pose!
In Costa Rica, you will find two types of sloths: the two and the three fingered sloths.  Both species love high humidity and lush rainforest as these conditions guarantee a constant source of leaves that they live on.
And if there is one place that has lots of rainforest and is humid, that is Tortuguero so you will most probably have the opportunity to see both types of this furry tree dwellers while you explore the water canals.
These amazing animals love to sleep clocking up an average of 15 hours a day so chances are when you do spot one cuddled up or hanging in the trees, it will be probably be napping.  The three-fingered sloth is a bit more active during the day than his slumbering two-fingered cousin which means that you might see them in action. This means you will get some fantastic slow-motion footage and photo opportunities for artistic poses as they move through the trees at record speeds!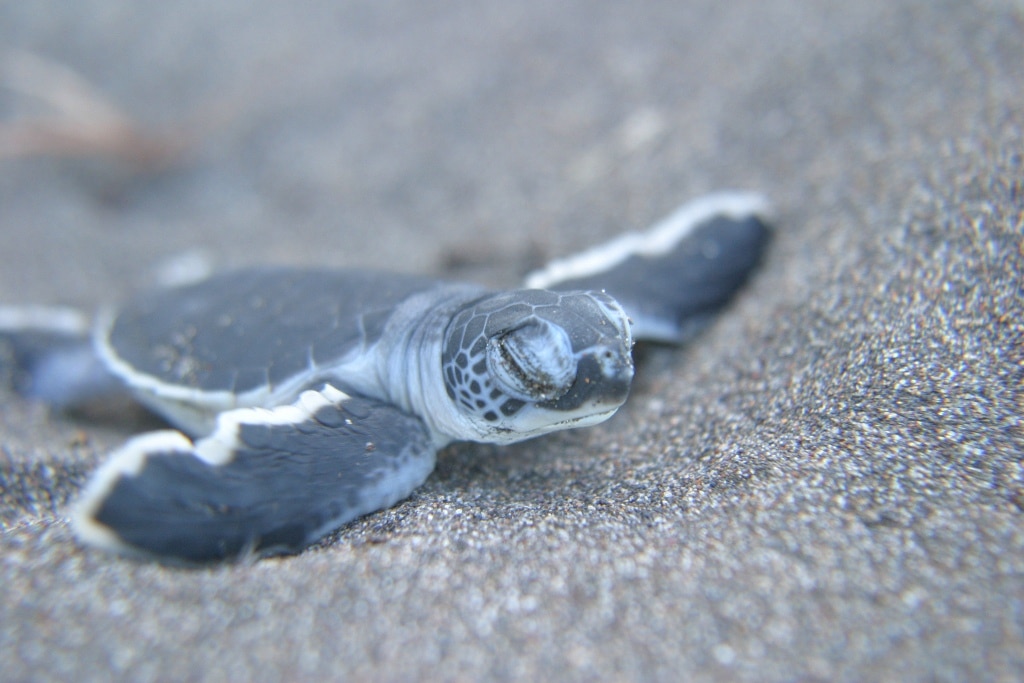 2. Slowly but Surely Sea Turtles
The beautiful water canals of Tortuguero ultimately sweep out into the Caribbean Sea after winding through the lowlands.  The canal is divided from the sea by a stretch of narrow land and beach that is home to the town of Tortuguero and forms part of the Tortuguero National Park.
The coastal fringe is wild, and is not for swimming, but it is where up to four different sea-turtles come to nest during the year.  This is an unbelievable moment and is a sight to see.  The slow- and heavy-flippered sea turtles make their way up the beach in search of the perfect place to build the hole that will become their nesting site.
A few months later, these eggs that have been incubated by the warm sand and sunlight will hatch and the struggle begins for them to make the hazard ridden march to the ocean.  The majority of these majestic animal's don´t make it to adulthood and/or reproduction age but when they do, they will return to the place of their birth.  How this is achieved remains a mystery.
During these periods of nesting and hatching, you will have the opportunity to live these incredible experience in company of a guide as this is a national park and it is strictly managed to ensure that the sea-turtles are not disturbed as they are highly sensitive to distractions.
Have your cameras ready but as nesting occurs in the evening and very often in synchrony with a full moon, flashes can´t be used.  But sometimes, not even a camera does justice to what you are witnessing.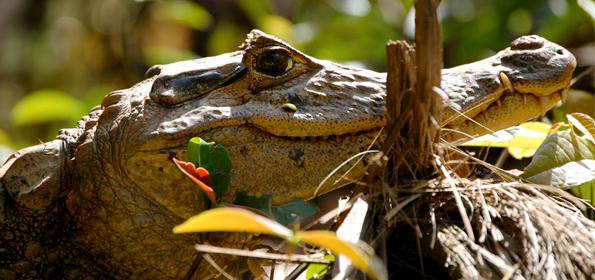 3. Cool, calm and collected Caimans & Crocodiles!
Just like the sloths, the Caimans and Crocodiles are exceptionally good at staying still for a photo shoot.  You will find them basking in the sun on the banks of the water canals or their beady eyes peeping just above water level as they gracefully glide by.  Either position, they are fantastic photo subjects and let´s face it, these are prehistoric creatures we are witnessing.
The caimans are small and are actually not harmful to people unlike the American crocodile that are as big as the infamous Nile Crocs.  These reptiles love the lowlands and tropical dry and rainy forests including the Tortuguero water canals so come prepared for some great viewing.
Did you know that Caimans are more closely related to alligators than their crocodile distant cousins?  While smaller they are predators alike and they love to feed on fish, insects and small mammals.
The larger Tortuguero crocodiles are most likely to be seen hanging out on the sunny banks, sometimes with their mouths open to cool off.   Some great photo ops and no need to worry about them moving.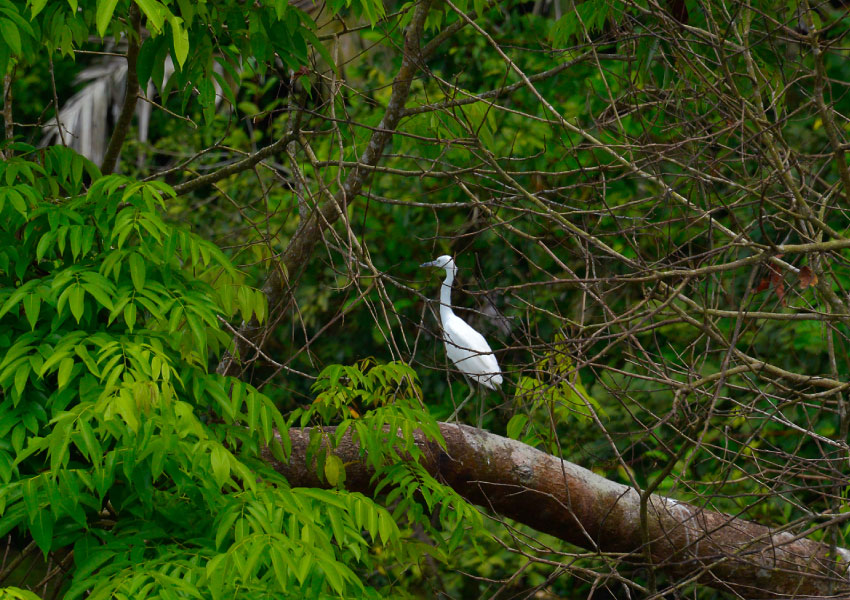 4. Beautiful Birds Galore
The experts say that Tortuguero is one of the best places for birdwatching so not only bring your camera, pack your binoculars too!
Migratory and resident bird species love Tortuguero because it has beach, forest, freshwater, open air space and clearings.  There are about 300 bird species found in this amazing region and you will be able to see many up close as you explore the water canals from a boat or maybe even a kayak.
Some of the species you may get to see and take photos of include the noisy toucans, Osprey, Chapulinero Hawk, Oropendulas, herons, hummingbirds, and Warblers.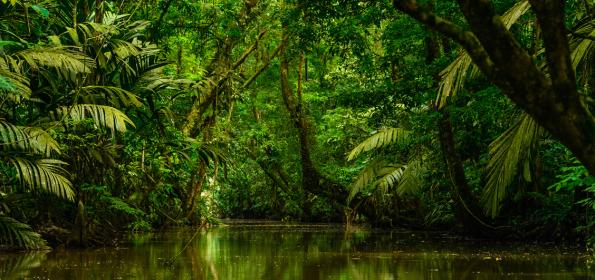 5. The Whimsical Water Canals
These winding channels of dark colored water that contrast with the deep greens of the tropical rainforest that borders them on either side present amazing photo opportunities. These canals are the real stars of Tortuguero, and they are on center stage wherever you are.
The color of the water is dark from the natural dye of the trees that embraces it which makes for a mirror-like effect allowing you to capture the reflection of the lush, dense rainforests creating the perfect photo without the need for special effects at all.
The sunlight seeping through the forest canopy contrasts the darker colors of the water and the trees. These rays of light give the canals a mystical feel to them and where you feel truly part of the beauty of untouched nature.
You will have to come to Tortuguero to really feel its magic and of course, the best hotel in Tortuguero is Manatus Costa Rica! After a day of photographing and exploring the water canals, VIP service, A/C and WIFI are welcoming.  See you in December!