Costa Rica has begun to open its airports again to receive international commercial flights which are great news for the eager travelers and "wanderlusters" wanting to visit beautiful Costa Rica.   Tortuguero is also getting ready to receive nature lovers wanting to explore the amazing water canals bordered by the lush rainforest.  Let´s see how Manatus Hotel, Tortuguero, and Costa Rica are getting ready for your visit!
1. Manatus is getting ready to reopen in December
The re-opening date for Manatus Costa Rica, the best VIP hotel in Tortuguero is the 1st December 2020 which is great news.
As Costa Rica begins to re-awaken from the COVID-19 slumber that brought tourism nearly to a halt, Tortuguero has begun to look forward to receiving nature-loving travelers looking for unique adventures as only Tortuguero can do it.
Manatus decided to close its doors temporarily during this difficult period and with tourism coming to half for many months.  With the re-opening date decided, Manatus can prepare the property, the team, and the community for the arrival of tourists again. Furthermore, it will give them enough time to determine health and safety protocols that will be implemented.
With a doubt, your stay at Manatus should be as peaceful and carefree as possible.

2. Costa Rica has opened its airports!
Costa Rica re-opened its airports at the beginning of August and since then has been receiving weekly flights from Europe.
Iberia was the first flight to arrive and in true Costa Rican form, was welcomed with open arms and even received a water-cannon salute to celebrate this important re-activation of Costa Rica´s most important export product
Lufthansa will be flying out of Frankfurt with direct flights to San Jose on Wednesdays and Saturdays on an Airbus A340-300 so not only do eager travelers have the choice of different days to fly, it will be in the comfort of this beautiful wide-body airplane too.  Wilkommen we say!
Iberia was the first airline to fly into Costa Rica in August and the welcome was memorable! What better way to say "hola" and "Bienvenidos" than a water-cannon salute to commemorate this important moment for Costa Rica and tourism. Iberia will have a weekly flight for the time being arriving on Monday evenings and it is also direct.
So, the airplanes are flying to Costa Rica!  Manatus, Tortuguero, and Costa Rica are ready for your visit!
3. Costa Rica has been designated as a "safe destination".
Costa Rica has been recognized by the World Travel & Tourism Council as "a safe destination following review of 16 health and hygiene protocols, which were jointly developed by the public and private sector.
The recently appointed Minister of Tourism, Gustavo Seguro stated that "We are committed to our tourists and eager that they can travel safely. This recognition, in addition, reinforces the international image of Costa Rica as a tourist destination, which fortunately is robust."
So, as you explore the rainforest laden water canals of Tortuguero, you will have peace of mind that you are traveling in a country that has been deemed safe.
It certainly is reassuring that Costa Rica has the seal of "Safe Travels Stamp" which is where the bar is set for the new normal for travel.

4. Tortuguero National Park has invested in its infrastructure
Tortuguero National Park has had a generous injection of money to improve infrastructure including shelter for staff and volunteers, docks, and storage warehouses.  This new center has been called "Cuatro Esquinas Operation Center of the Tortuguero National Park"
This significant investment also guarantees the continued efforts by park rangers, volunteers, and the community in their strategic conservation work of the flora and fauna of the area.  Ultimately, these efforts will create improved conditions and experiences for the tourism industry that the community is eagerly awaiting to return.
Manatus offers tours to this beautiful and important national park that was created 50 years ago, as part of the Tortuguero Conservation Area.   With expert guides, you will be able to explore the extensive network of rivers and canals and have the opportunity to spot an amazing diversity of animals.
The park protects the most important green turtle nesting beach in the western hemisphere also.  Talk about Tortuguero and Costa Rica getting ready for your visit!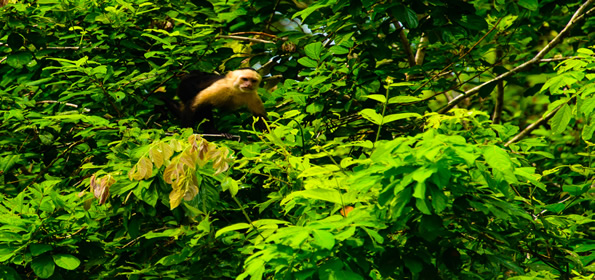 5. Tortuguero is the perfect destination for post-COViD-19 travel
In the new way of doing tourism, eager travelers look for destinations that will guarantee not only a place to disconnect and of renewal, many will also look for places that don´t have many people, and that fits the new safety and hygiene standards.
Welcome to Manatus Costa Rica, Tortuguero!
Tortuguero is only reachable by boat or plane so that is a great place to start with. In this little corner on the northern coast of the Caribbean Sea of Costa Rica, Tortuguero is far from the crowds and close to nature so you won´t have to worry about bumping into people on the street walk or hanging in lines to see the attraction.
What will happen is that you will see lots of animals, lots of wide-open spaces, amazing greens, and blues, and a sense of serenity that will be wonderful for your heart and soul.
We add Manatus Costa Rica to the mix, and you will also enjoy a stay at the best hotel on the canal with the only gourmet restaurant in the neighborhood.
See you from December onwards in Manatus Costa Rica, Tortuguero. You will love it!